Anywho...I have never watched a tampon bloom. I had jokingly commented to David this morning that watching a tampon bloom is a beautiful thing ;-) I was totally kidding, I have no idea. So I decided to make my no idea into a reality...
I grabbed a cup of water...
I took a Super Absorbency tampon...
And I dunked it! And with child-like awe I watched it bloom...
however...I was disappointed that it didn't absorb as much as I thought it would...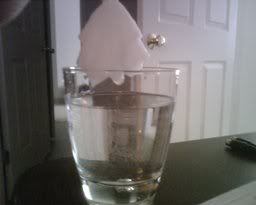 Then another crazy idea came to my mind...what does this look like pulled apart? So...I had to do it...
Now why stop there? I took another tampon, this one regular absorbency and took it apart as well...
Now...if only I had a light absorbency :-( Bummer...
I hope that you have enjoyed reading about my fascinating and time consuming research as much as I enjoyed sharing it with you ;-)
I should have been a scientist...
Ok...so I prefer Playtex I prefer plastic to cardboard :-)