Eye Surgery
Soooo it's been about a month and a half, my eyes are still good. They feel kind of dry every once in awhile, but it isn't too horrible.
Hair
I got a new hair cut :-) I love it! I have about 5 layers in my hair and I have added bangs :-D I love my new hair stylist as well, she's great! I already asked her about my wedding hair. She let me know that I just need to schedule a time a month prior to and we will do test runs.
Wedding
Caterer
We have picked our Caterer! Damn...we are so ahead of the game! Their food is exquisite! I love it! We even have our whole menu picked out as well!
Beverage Station:
Apple Cider, My initial idea was that it would be shooters passed around during cocktail hour, but maybe it would best serve as a beverage station?
Passed hors d'oeuvres:
Phyllow Pillow of Duck, Cranberry, and Camembert
Gaufrette Potato Chops with Spicy Beef, Spinach, and Sour Cream
Caramelized Onion, Blue Chesse and Wild Mushroom Tartlets with Sun Dried Tomato Relish
Asian Spoons of Curried Chicken with Mango Salsa
Beef Carpaccio on French Baguettes with Shaved Onion, Caper, Truffle oil and Flecks of Parmesan
The next hors d'oeuvre I did not see on the menu, but I asked if they could make this...blueberry soup shooters topped with creme fraiche. I already have an idea on the shooters I'd like to use :-)
Sit Down Dinner:
First Course
Roasted Squash Pots of Butternut Squash Bisque with Granny Smith Apples and Toasted Pepita Seeds...when they served us this it also had a side of candied cranberries and walnuts! Soooo yummy...and so beautifully displayed.
Entree
Option 1 - Slow Roasted Tenderloin Dredged in Chestnuts, Napped with Brandy Jus Sweet and White Potato Gratin Thyme Roasted Baby Carrots and Haricot Vert Bundles
Option 2 - Roasted Maple Glazed Salmon with Colorful Tomatoes and Fine Herbs Atop a Bash of Fall Vegetables & Wild Rice Petite Spinach Gratin Tomatoes, Garlic Escarole Walnut Butter Sauce
Dessert Buffet:
The Venetian Buffet is great as well. I'm also trying to find out if they do ice cream...I have one I'd like them to try making :-)
Venue
Castle Hill as discussed prior! Signed, sealed, delivered...October 3, 2009 from 17:00-22:00 is our wedding! hehehehehe I am soooo thrilled!!!! Here are the extra pictures I promised!!!
Ceremony site (Plan A - Nice day)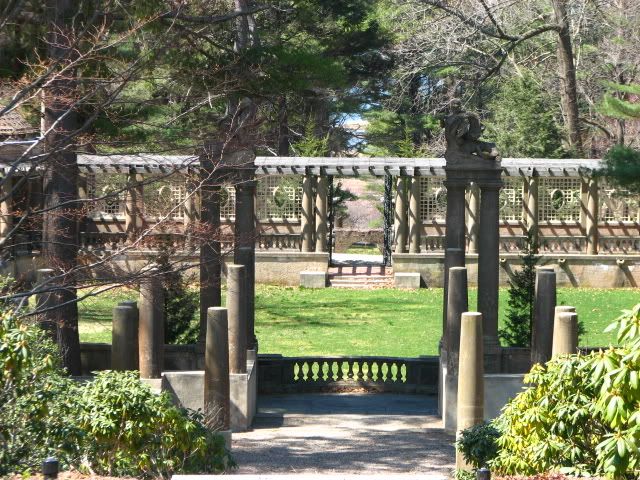 Ceremony Site continued...
[
Error:
Irreparable invalid markup ('<img [...] http://i100.photobucket.com/albums/m34/natalie516/wedding/ceremony%20and%20reception/img_1007.jpg">') in entry. Owner must fix manually. Raw contents below.]
<b><u>Eye Surgery</u></b>
Soooo it's been about a month and a half, my eyes are still good. They feel kind of dry every once in awhile, but it isn't too horrible.

<b><u>Hair</u></b>
I got a new hair cut :-) I love it! I have about 5 layers in my hair and I have added bangs :-D I love my new hair stylist as well, she's great! I already asked her about my wedding hair. She let me know that I just need to schedule a time a month prior to and we will do test runs.

<b><u>Wedding</u></b>
<u>Caterer</u>
We have picked our Caterer! Damn...we are so ahead of the game! Their food is exquisite! I love it! We even have our whole menu picked out as well!

Beverage Station:
Apple Cider, My initial idea was that it would be shooters passed around during cocktail hour, but maybe it would best serve as a beverage station?

Passed hors d'oeuvres:
Phyllow Pillow of Duck, Cranberry, and Camembert
Gaufrette Potato Chops with Spicy Beef, Spinach, and Sour Cream
Caramelized Onion, Blue Chesse and Wild Mushroom Tartlets with Sun Dried Tomato Relish
Asian Spoons of Curried Chicken with Mango Salsa
Beef Carpaccio on French Baguettes with Shaved Onion, Caper, Truffle oil and Flecks of Parmesan

The next hors d'oeuvre I did not see on the menu, but I asked if they could make this...blueberry soup shooters topped with creme fraiche. I already have an idea on the shooters I'd like to use :-)

Sit Down Dinner:
First Course
Roasted Squash Pots of Butternut Squash Bisque with Granny Smith Apples and Toasted Pepita Seeds...when they served us this it also had a side of candied cranberries and walnuts! Soooo yummy...and so beautifully displayed.

Entree
Option 1 - Slow Roasted Tenderloin Dredged in Chestnuts, Napped with Brandy Jus Sweet and White Potato Gratin Thyme Roasted Baby Carrots and Haricot Vert Bundles

Option 2 - Roasted Maple Glazed Salmon with Colorful Tomatoes and Fine Herbs Atop a Bash of Fall Vegetables & Wild Rice Petite Spinach Gratin Tomatoes, Garlic Escarole Walnut Butter Sauce

Dessert Buffet:
The Venetian Buffet is great as well. I'm also trying to find out if they do ice cream...I have one I'd like them to try making :-)

<u>Venue</u>
Castle Hill as discussed prior! Signed, sealed, delivered...October 3, 2009 from 17:00-22:00 is our wedding! hehehehehe I am soooo thrilled!!!! Here are the extra pictures I promised!!!

Ceremony site (Plan A - Nice day)
<img src="http://i100.photobucket.com/albums/m34/natalie516/Wedding/Ceremony%20and%20Reception/IMG_1005.jpg">

<lj-cut text="More pictures of Ceremony Site">
Ceremony Site continued...
<img src="http://i100.photobucket.com/albums/m34/natalie516/Wedding/Ceremony%20and%20Reception/IMG_1006.jpg>

<img src="http://i100.photobucket.com/albums/m34/natalie516/Wedding/Ceremony%20and%20Reception/IMG_1007.jpg">

<img src="http://i100.photobucket.com/albums/m34/natalie516/Wedding/Ceremony%20and%20Reception/IMG_1008.jpg">

<img src="http://i100.photobucket.com/albums/m34/natalie516/Wedding/Ceremony%20and%20Reception/IMG_1009.jpg">

<img src="http://i100.photobucket.com/albums/m34/natalie516/Wedding/Ceremony%20and%20Reception/IMG_1010.jpg">

<img src="http://i100.photobucket.com/albums/m34/natalie516/Wedding/Ceremony%20and%20Reception/IMG_1012.jpg">

<img src="http://i100.photobucket.com/albums/m34/natalie516/Wedding/Ceremony%20and%20Reception/IMG_1013.jpg">

<img src="http://i100.photobucket.com/albums/m34/natalie516/Wedding/Ceremony%20and%20Reception/IMG_1014.jpg">
</lj-cut>


Ceremony Site (Plan B - rainy or cold day)
<img src="http://i100.photobucket.com/albums/m34/natalie516/Wedding/Ceremony%20and%20Reception/IMG_0989.jpg">

Cocktail Hour and the room is also the Dance area
<img src="http://i100.photobucket.com/albums/m34/natalie516/Wedding/Ceremony%20and%20Reception/IMG_0998.jpg">

<lj-cut text="More pictures of Cocktail Hour">
<img src="http://i100.photobucket.com/albums/m34/natalie516/Wedding/Ceremony%20and%20Reception/IMG_1000.jpg">

<img src="http://i100.photobucket.com/albums/m34/natalie516/Wedding/Ceremony%20and%20Reception/IMG_1002.jpg">

<img src="http://i100.photobucket.com/albums/m34/natalie516/Wedding/Ceremony%20and%20Reception/IMG_1004.jpg">
</lj-cut>

Reception Hall
<img src="http://i100.photobucket.com/albums/m34/natalie516/Wedding/Ceremony%20and%20Reception/IMG_0996.jpg">

I don't want to be obnoxious so I won't post much more pictures :-p but here are some general pictures of the grounds:

<img src="http://i100.photobucket.com/albums/m34/natalie516/Wedding/Ceremony%20and%20Reception/IMG_0986.jpg">

<lj-cut text="Pictures of the Grounds">
<img src="http://i100.photobucket.com/albums/m34/natalie516/Wedding/Ceremony%20and%20Reception/IMG_1017.jpg">

<img src="http://i100.photobucket.com/albums/m34/natalie516/Wedding/Ceremony%20and%20Reception/IMG_1018.jpg">

<img src="http://i100.photobucket.com/albums/m34/natalie516/Wedding/Ceremony%20and%20Reception/IMG_1022.jpg">

<img src="http://i100.photobucket.com/albums/m34/natalie516/Wedding/Ceremony%20and%20Reception/IMG_1024.jpg">

<img src="http://i100.photobucket.com/albums/m34/natalie516/Wedding/Ceremony%20and%20Reception/IMG_1026.jpg">
</lj-cut>

<u>Photography</u>
We picked our photographer! She's amazing...I love her style of work...http://www.amywestphotography.com/

<u>Florist</u>
We also chose our florist, I love her work as well. She has such a great and unique way with setting up bouquets. http://www.tammybecker.com/

<u>General</u>
I already know what I want to do for gifts to people. For my bridesmaids I am going to give them a necklace...in addition to these gifts I want to give the following people: Dad, Mom, Johnny, Alyssa (little niece), and Kim each a side by side photoframe of just me and them when we were younger and one of us together at the wedding. :-D I am going to put together a similar gift for David's mom as well.

As for specifics...I will post that later...I have to leave soon...


<b><u>Apartment</u></b>
We picked out our apartment, I can't wait to move in! It is literally 1.5 miles from where I work!

<b><u>Alyssak</u></b>
I have another cute picture of her...she is 6 months now...
<img src="http://i100.photobucket.com/albums/m34/natalie516/Family/Alyssa/babybasket2.jpg">
Current Location:

at work

Current Mood:

rushed